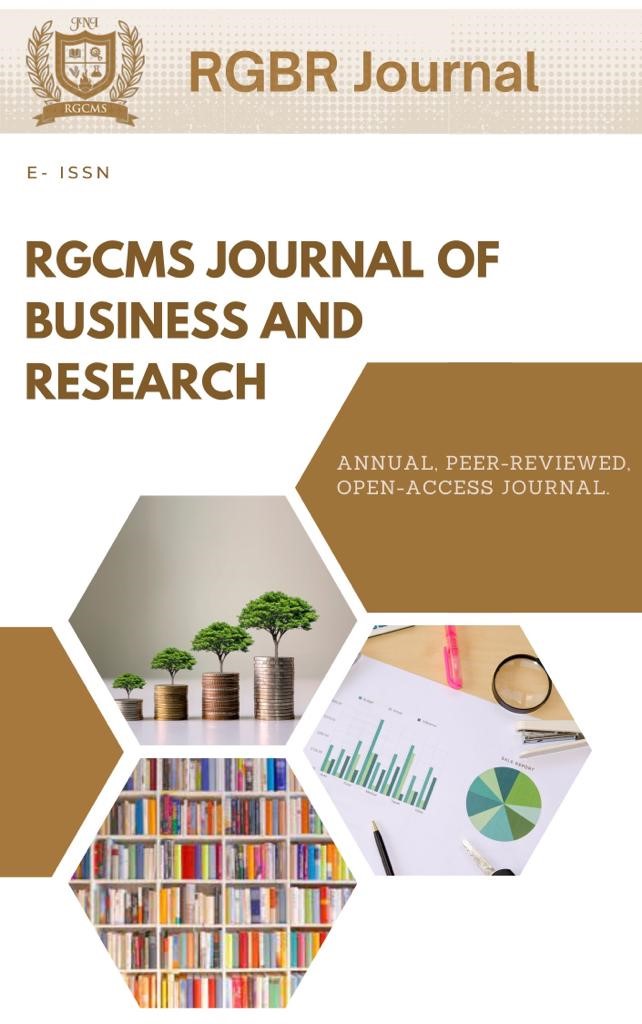 RGCMS JOURNAL OF BUSINESS & RESEARCH
ISSN:
eISSN:
Owner & Publisher: RGCMS, University of Mumbai, Navi Mumbai, India
Publication Frequency: Annual from 2023
RGCMS journal is the proud owner of RGCMS journal and publisher of the RGCMS journal of Business and Research. RGBR is annual, peer-reviewed, open-access journal. RGBR aims to solicit original high-quality research work that can contribute to theory building. RGBR focuses on sharing results of academic research. It serves as a platform for researchers to communicate their findings, methodologies and conclusions to the broader community. RGBR is a multi-disciplinary journals. All manuscripts are having open-access and are available on the journal's website.
The scope of publication encompasses all areas of multidisciplinary research in social sciences, including all branches of management sciences, psychology, economics, sociology, etc. It welcomes both theoretical and empirical academic articles from all disciplines of social sciences.
The following types of papers will be considered for publication:
Original research works, both theoretical and empirical in management and related discipline.
Exhaustive surveys of literature, including bibliometric studies and meta-analyses.
Editor-in-Chief:
Associate Editor:
Dr.Radhika Wadhera
Dr. Farheen Ahmad
Advisory Board:
Dr. Hiresh Lohar
Dr. Nitin Joshi
Dr. Chandrahauns R. Chavan
Dr. Govind Shinde
Dr. Ashwini Arte
Editorial Assistant:
Only manuscripts of sufficient quality that meet the aims and scope of RGBR  will be reviewed. As part of the submission process you will be required to warrant that you are submitting your original work, that you have the rights in the work, that you are submitting the work for first publication in the Journal and that it is not being considered for publication elsewhere and has not already been published elsewhere, and that you have obtained and can supply all necessary permissions for the reproduction of any copyright works not owned by you.
Manuscripts should be submitted preferably through email or through gform and the research article / paper should preferably not exceed 8 – 10 pages in all.
Manuscripts should be typed in 12 font-size, Times New Roman, single spaced with 1″ margin on a standard A4 size paper. Manuscripts should be organized in the following order: title, name(s) of author(s) and his/her (their) complete affiliation(s) including zip code(s), Abstract (not exceeding 350 words), Introduction, Main body of paper, Conclusion and References.
The title of the paper should be in capital letters, bold, size 16″ and centered at the top of the first page. The author(s) and affiliations(s) should be centered, bold, size 14 and single spaced, beginning from the second line below the title.
– First Author Name, Second Author Name2, Third Author Name3
– Author Designation, Department, Organization, City, email id
– Author Designation, Department, Organization, City, email id
The abstract should summarize the context, content and conclusions of the paper in less than 350 words in 12 points in the Italic Calibri. The abstract should have about five key words in alphabetical order separated by a comma of 12 points Italic Calibri.
Figures and tables should be centered, separately numbered, self-explained. Please note that table titles must be above the table and sources of data should be mentioned below the table. The authors should ensure that tables and figures are referred to from the main text.
Paper should be submitted in APA. Reference Style.