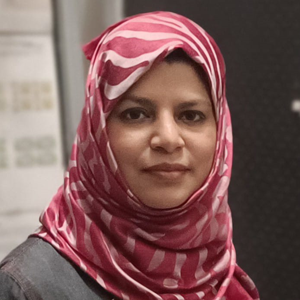 Dr. Arshi Siddiqui
PhD, MMS, MSc (Organic Chemistry), NET Qualified
Assistant Professor – Human Resource
Coordinator- WDC
Dr. Arshi Abdullah Siddiqui, an accomplished academic and professional with a diverse background. Holding a PhD in Management from Mumbai University and being NET Qualified, Dr. Siddiqui's expertise is built upon a foundation of academic excellence. Additionally, with an MMS in Human Resource from Mumbai University and an MSc in Organic Chemistry, her educational journey showcases her versatility Her rich experience includes roles as a Visiting Faculty with Rizvi College of Management (Bandra) and Babasaheb Gawde Institute of Management, where she has imparted her knowledge to eager minds. She has also served as the Learning and Development Head at Winsome Flora Education Trust, contributing significantly to the growth and development of education initiatives. Her commitment to education and management extends into the corporate world, where she has worked as an HR Executive with Allanasons, further solidifying her practical insights. With an impressive academic journey, a breadth of experience in education, and a strong corporate background, Dr. Arshi Abdullah Siddiqui is a dynamic individual who brings a wealth of knowledge and expertise to any endeavor she undertakes.

Contact Details
Email id – arshisiddiqui@rgcms.edu.in
LinkedIn –  https://www.linkedin.com/in/arshi-siddiqui-95a19717/